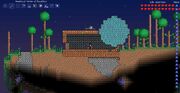 Comets
will spawn with a 1 in 10 chance when you smash a
Hallowed Altar
. They consist of approximately 170
Ever Ice
. They will fall anywhere in your world, even on buildings. The Ever Ice that makes up each comet can only be mined with a Dragon Bone Drill or better.
Comet Tails (A new NPC) will spawn around a comet just like Meteor heads on a meteorite.
In the source mod, Comets have a 1/3 chance of falling at midnight during Superhardmode. Instead of a circle of ore in like in the tConfig version, this is a meteorite of Hydrolyth Ore. They can only be mined with the Instantanium Picksaw or better.
Ad blocker interference detected!
Wikia is a free-to-use site that makes money from advertising. We have a modified experience for viewers using ad blockers

Wikia is not accessible if you've made further modifications. Remove the custom ad blocker rule(s) and the page will load as expected.