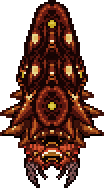 The Armored Hell Corruptor is a Superhardmode NPC that will fire a Vile Spit at the player when it has a line of sight to them. This Vile Spit is upgraded so that it can corrupt Ash.
Stats:
HP: 800
Attack: 100
Defense: 50
Immune to Cursed debuff
Weak knockback resistance
It can drop:
It spawns in Hell and just above hell in Superhardmode, pretty common.
The sprite is made by Dr Death, but animated by Drdragonfly.
Ad blocker interference detected!
Wikia is a free-to-use site that makes money from advertising. We have a modified experience for viewers using ad blockers

Wikia is not accessible if you've made further modifications. Remove the custom ad blocker rule(s) and the page will load as expected.